Jet City Blues Stories

LITTLE CHARLIE MAKES GOOD!

Little Charlie and the Night Cats
By Shannon D. Love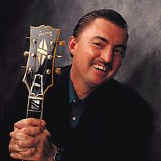 It was a time when the Beach Boys were topping the charts with Surfin' USA, the migration to California was upon us -- all of us wanting to seek out the famous California girl -- surfer shirts were cool, and the Beatles had invaded the U.S. with their new hit song, I Want To Hold Your Hand. Beatle hair cuts and Beatle boots were the latest rage, even our parents loved them -- they all wore suits!

We were experiencing a new dawn in music known as the British invasion, and surf music. The Beach Boys were scared that the Beatles were going to put them into early retirement, and at the same time, Paul McCartney was saying that they were afraid of what the Beach Boys were accomplishing musically on the charts. But none of the fears mattered to the rest of us. We were marveling and buying as many of the new records that were coming out as fast as we could afford them. 45's were on their way out; LP's were in; and most of us had never seen a 78 record, let alone even owned one. But what mattered most to us was the music, and this music was it, the real thing. * * *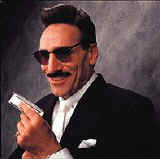 One summer evening, in a small town in Northern California, a young little Charlie Baty was listing to the radio. Carelessly flipping the dial around he stumbled upon a station that he had not heard before. The music he heard sent a chill down his spine. He was taken back by the sounds of blues masters Little Walter and Muddy Waters. He had never heard anything like it before. He thought it was so great and just assumed the songs that he was hearing had all been huge hits before. But over time Charlie realized that they were only hits for a small segment of the population, and that had been a long time ago. Most had forgotten the songs and few even knew who these great blues masters really were in the first place.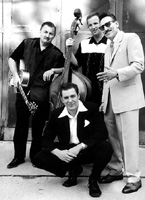 That sent Little Charlie on a search and rescue mission to find out everything he could about the blues. He started at the library, leafing through all the books and reading all that he could get his hands on about the blues legends. He went to the local used record stores, rifling through the vintage 78 record bins, hoping to find the blues records that he was searching for -- at that time there were only two Muddy Water records available, a couple Howlin' Wolf, a few Sonny Boy and one Little Walter record. He did everything he could to learn about the masters.
This was Charlie's whole focus while he was growing up. When all his school mates were turning out for football and all the other normal school activities that school kids do, Little Charlie was trying to put together a blues band. He would spend his days practicing playing the harmonica, just like his hero, Little Walter and the Nightcats.
Little Charlie was doing his best at trying to get people interested in this new music, the blues, that he was so excited about. Charlie recalls one day at Taylor Junior High School, "My band and I were playing at lunch one day in the lunchroom and someone threw a carton of milk at me. It flew right by my head while I was playing some Sonny Boy song, and I remember thinking to myself, 'Boy, people just don't like this stuff.'" But that did not deter Charlie from playing the music that moved him so deeply. He continued to grow and sought out other blues enthusiasts to help further his education. By the time High School rolled around Little Charlie was giging around town, playing at sock hops, slumber parties, 8th grade graduation parties -- he even came in third place in a battle of the bands contest. He continued playing the blues, still trying to convert people over to the music he was so passionate about.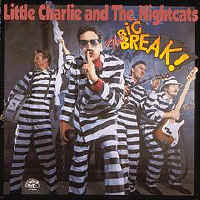 By the time Little Charlie got to college, UC Berkeley, in the early 70's, the disco era had arrived. Getting blues gigs became a tough sell. Fortunately, Little Charlie had met up with some other blues musicians in college. They managed to play some little coffee shop type places down on Telegraph Avenue, frat parties and other assorted gigs, but they did not have a club scene or a lot going on for the blues in the small town of Berkeley for college kids at that time.
Meanwhile, across the bay in San Francisco, there was a player that had a great reputation as a harmonica player named Rick Estrin. The two met around the time Little Charlie turned 21, with Estrin being just a few years older. Estrin had already found a way to get into the black clubs and play with cats like Lowell Fulson, Charles Huff and Roger Collins. Little Charlie was pretty impressed with Estrin's harmonica playing, and wanted to meet him so he could learn more about his stylistic tone and technique.
Little Charlie arranged to meet Estrin, and having heard that he was a real tough, gangster type of guy, (and Little Charlie only being a fresh naive college kid), he was nervous about the meeting. Rick recalls that first meeting, "Rick had a flat in the Mission District which was considered the Latin Ghetto, or the Latino Ghetto in San Francisco. So I went down to meet with him, and I had this real rare record, and I thought, well, he will dig this record, (knowing that he would like it) then maybe he won't kill me if I give it to him."
That day Little Charlie and Rick Estrin bonded. They talked about music theory, and the kind of guitar that should be played behind a harmonica, and about playing the appropriate chords, when to play a single-note run. They talked about the technique of the marriage of guitar and harmonica -- both agreeing that when a harmonica takes a solo, the guitarist needs to follow closely to what's going on, so it's like one instrument being played. They laughed and joked, talking of the two of them getting a band together, with Charlie playing guitar and Rick on vocals and harmonica. And then Little Charlie went on his way.
The next time the two would meet was in 1974, a few years later at a tribute show to Little Walter. Little Charlie spotted Estrin on the dance floor with an elegantly dressed black lady. The lady turned out to be Little Walter's sister, and they were dancing while Gary Smith was play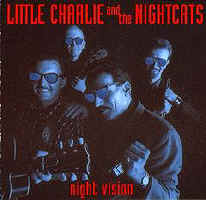 ing Blues With A Feeling. The two musicians touched base, and shortly after, Estrin called Little Charlie and asked if he could come up to Sacramento to join Charlie's band. Estrin said he was tired of playing down in San Francisco where the guitar players didn't know how to back up his harmonica playing properly, and he believed Little Charlie could understand his philosophies and techniques by what they discussed that one day in the Latino Ghetto. Plus, he was ready for a change.
Now, six months earlier, Charlie had moved up to Sacramento from Berkeley and was in a band called Quick Shake as their harmonica player. The band was not doing much so after a while Charlie took over the band, (primarily because he had the most experience of the group). They decided to dedicate the band to Little Walter, featuring all the songs in Little Walter's repertoire. Being that Little Walter was the first blues guy that inspired Charlie to play the blues, and because Walter was called Little Walter & The Nightcats, it seemed a natural choice to rename the band, Little Charlie & the Nightcats.
When Estrin and Little Charlie teamed up, they both played the harmonica. Then after a year of the two playing harmonica, their guitar player left, so Charlie switched over to the guitar and Rick was the solo harmonica player of the band. Bookings were few and far apart -- the band was lucky if it could get two or three gigs in a month, playing biker parties or all-night gambling clubs. "You'd get paid by passing the hat, and sometimes you wouldn't get the hat back chuckled Little Charlie. All the band members were working day jobs to get them through the tough times until "the better days" would arrive (that all musicians keep telling themselves will come).
By the time the 80's arrived blues music had picked up in popularity. (Perhaps, with the rising stardom of Oregon based guitarist, Robert Cray, and the Texas band, The Fabulous Thunderbirds, who both crossed over in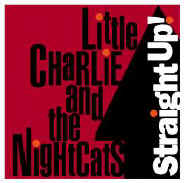 to the mainstream with more of a slick commercial pop version of the blues.) Robert Cray and the Thunderbirds were only two of the many bands who helped to heighten the awareness of our blues heritage. Diversified groups across the country started setting up blues societies, promoting the local blues scene and participating in the many blues festivals that became popular in the 80's. (Those festivals were considered very successful by today's standards and are still growing in attendance through the 90's.) And many art grants were given to young enthusiasts to promote and educate our country's true musical heritage, the blues. To make it short, blues was becoming hip and cool!
Little Charlie & the Nightcats were rapidly becoming a strong territorial band, having played the same clubs as the Thunderbirds and Robert Cray. But because of the fast growing success of the Thunderbirds and Cray (with the popularity of their soaring record sales), they had moved out of the club scene and into doing shows in big theaters. So the Nightcats decided it was time they put a record out there of their own.
In 1986 the Nightcats put together a quality cassette and sent it off to about six of the independent blues labels -- Blind Pig, Rounder, Alligator and a few others in hopes of being signed by a label. Charlie had typed up some introduction letters and sent them off with the cassette.
Some years past. Estrin had met Bruce Iglauer when he operated a record store (who later became the founder of Alligator Records). Estrin was not sure that Bruce would remember him from the past, but sent off a hand-written note with the cassette in expectation of Bruce remembering meeting years ago. Blind Pig, however, responded by sending out a contract wanting to put their record out. Charlie got a message that night on his answering machine at home from Bruce saying, "Don't sign with anybody. I am going to come out and maybe sign you guys."
Little Char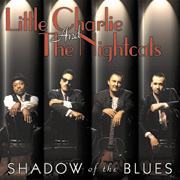 lie recalls the quandary of the big step up, "At first it was real scary. I had a day job and the rest of the guys had jobs here and there. Musically we were working 3 or 4 nights a week and making a living. So when Bruce came out, it was a big shift. It meant we had to gear up for this big road trip, and we didn't know if our vehicles would make it or not. There was a sacrifice for the chance of making it to the next level." Bruce told Little Charlie, "I will sign you guys to one plus one deal, but basically if you just want to stay here, you might as well not make a record. We're not interested in a limited market." Charlie was not sure if he wanted to commit to touring, but decided to take a leave of absence from his job and give it a shot. So after a couple of tours Charlie decided it was going to work and quit his job.
Drummer Dobie Strange has been with the Nightcats for eleven years. Charlie says Dobie's a classic throw back to the bands of the 30's and 40's, and has played in every possible band configuration and music style you could imagination. Charlie remembers the first time he saw Dobie, "Dobie was playing in a band that was doing a bunch of Average White Band material in 1973 and I noticed he was a real good lounge and jazz drummer but he was not getting the chance to play his jazz drums much and basically was retired at that time. The reason we ended up getting him was, we had a drummer that doubled as our car mechanic. He was multi-talented in those areas, but was not a great drummer. We got to the point where, if we were going to record, we had to have a more talented drummer and that's when we added Dobey to the mix."
The band's newest addition was Kim Wilson's loss and the Nightcat's gain. Ronnie James Webber marks the band'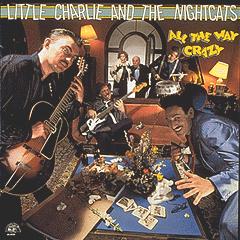 s first upright bass player and the band's third bass player to date. Little Charlie had this to say about Ronnie, "We first met Ronnie by doing an harmonica jam down in San Diego where they had Musselwhite, William Clark and Mark Hummel -- he was in Mark Hummel's band at the time. We had a big finale at the end with all these cats on stage. Ronnie was just doing a super job up there, sounding really good. So when our bass player decided to leave the band we looked Ronnie up and asked if he wanted to join us. He said 'yeah.' So I sent him a tape of all our tunes and with only one rehearsal, he had learned all the tunes."
Although Ronnie James Webber had been with other groups in the past, his first "roadworthy" band was with blues harmonica player, Mark Hummel. (Coincidentally, Rick Estrin produced Hummel's first CD, Feel Like Rockin'.) It was with Hummel that he got a real taste for the road, traveling throughout the U.S. and Canada. No surprise, Ronnie decided he liked it -- loved it. After a year with Hummel, Ronnie joined the Kim Wilson Band.
Rusty Zinn, a popular Jump-Swing guitarist, (who has been sought after by many studio and live musicians) was a big influence on Ronnie. Even though Rusty was younger, it was Rusty that got Ronnie in Hummel's band, then later in Kim Wilson's band. Ronnie recalls an earlier time when he was playing in Hummel's band, "We were playing down in Hollywood at a place called the Sunset Social Club... down there on Sunset Strip. And Rick Holmstrom walks in, and I didn't know who he was, and Rusty says, Uh-Oh! Then Holmstrom sits in with us, and Holmstrom and Rusty do this huge battle of the guitars deal up there on stage. At the end they were both covered with sweat. Those two guitar players have such a great respect for one another that when they get together, they tear it up. It was a real fun night."
Shortly after Rusty got Ronnie into The Kim Wilson band, and about a month of playing in that band, Ronnie got the call from little Charlie to join the Nightcats. Ronnie opted to join the Nightcats because they played year-round, about 250 gigs a year. With Kim Wilson splitting his time with his personal band and the Thunderbirds, Little Charlie & The Nightcats was more of a full time opportunity. Little Charlie told Ronnie when he joined the band, "It's wide o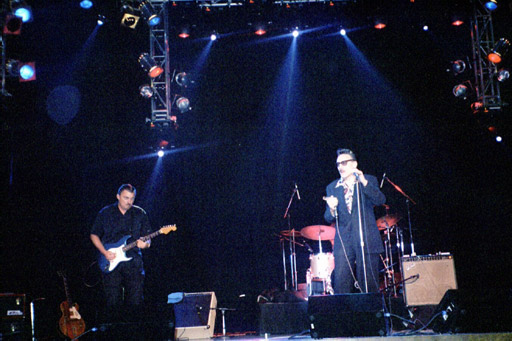 pen. Do what you want to do. Get as crazy as you want."
All that has been said about the Nightcats over the years, you have to give credit to Little Charlie for holding the band together -- and teammate Rick Estrin as well. Estrin has had a few knocks about him over the years -- not having a grand, smooth, powerful voice to work from, but more of a quavering, limited baritone vocal range. But, if that's the knock, this is what Rick does have, and that's charisma, poise and a tremendous stage presence. Rick has well earned his reputation as a world class harmonica player. Combined with his unique vocal style and unique ability to connect with the crowd, evoking laughter and dance, Rick is a true entertainer. Rick's voice works very well for the material that he writes. Evidenced by the crowds, I think they agree.
With Estrin providing most of the songwriting duties, and vocals, using that hip voice -- that comes from the back of his mouth -- he makes you feel just like a Cool Daddy-O as you groove to it. But it's Little Charlie Baty's personalized guitar playing throughout that allows him to call the band his own. This arrangement works well for the formidable duo. Charlie works off of the more flamboyant Estrin, as he dazzles the crowd with tongue twisting lyrics and stories, and Charlie assumes the straight guy as the crowds take in every movement with approval as he answers Estrin's antics with searing guitar work.
Little Charlie and the Nightcats now have six albums out on Alligator, and their latest, Straight Up, is successfully finding its way into many homes of the traditional blues lovers, as well as newcomers to the genre. The first four CD's were co-produced by Bruce Iglauer, Little Charlie and Rick Estrin, with Bruce having the final veto on the project. The fifth CD (Night Vision) was produced by Joe Louis Walker who changed the whole sound of the record. Little Charlie states, "Yeah, working with Joe worked out great, but he's a real busy guy and with us on the road so much, it was hard and cost-prohibitive to fly Joe out to do the project. Estrin and I knew what sounds we wanted to get, and we wanted to try this latest one ourselves." So the sixth CD, Straight Up, was solely produced by Little Charlie and Rick Estrin. On this project they changed philosophies of how they would record. They decided to go for more of a live and natural sound. Charlie states, "What would happen in the past was I'd go in and record a track playing rhythm guitar and record the solo later. The drums would have generic fills and we'd drop in a piano after the fact and ad the sax and organ." This time they used veteran musical guests, Jimmy Pugh (keyboards), John Firman (saxophone) and Rusty Zinn (guitar). This combination of players created a "club-type" atmosphere as the band was able to play together, at the same time, feeding off each other's energies. This eliminated the need for additional overdubbing in the studio later, thus, providing a more natural sounding recording.
Now, 20 years later, little Charlie and the Nightcats are one of the most recognized bands of the West Coast swing sound... Jump, Jive, Cool Daddy-O... Zoot-Suits, Ray-Ban shades, Spat two-toned shoes. West Coast swing is timeless music that sprang out of the Forties and punched hard in the Fifties, and today, is growing like a raging forest fire that scorches the oak on the many dance floors across the dance halls of the blues rooms of America. Little Charlie makes good after years of following his childhood dream. His search and rescue mission has paid off. He has opened the eyes of many and has helped to resurrect the respect and admiration of the classic and traditional blues sounds. Little Charlie continues to knock the socks off of all us true blues rockers and then some.


ęCopyright 1995 -- 2008 Jet City Blues Review Return to Home Page

Shannon Love Professional Auto Consultant -- Call (206) 251-6428

e-mail -- Sales@ShannonLove.com