Occasionally, we witness musical groups that will evolve beyond our expectations, attaining goals that ordinary bands only discuss in theory. Most groups couldn't even conceive of accomplishing the extraordinary task of performing together for some twenty five years. Roomful of Blues is such a group. Last year the group celebrated their twenty five year anniversary. Although, some of the members have changed along the way, the core has remained. It is the caliber and dedication of these musicians that withstood all obstacles and carried on the tradition of the blues. This is a story of... A Roomful of Blues.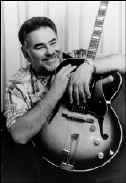 At six years old, a youthful Duke Robillard received an old ukulele from his older sister, and within weeks he was strumming chords to songs and singing around the house. Shortly thereafter his mother had bought Duke a clarinet, with hopes that he would play a nice respectable instrument. Duke had an older brother who he thought was the coolest. His brother played guitar and had his own records and record player. When Duke first heard Chuck Berry's Deep Feelin' on the flip side of Maybeline, he knew then that he wanted to be a guitar blues man.
Duke's brother was not completely supportive of his brother learning to play the guitar, or you could say, his guitar. Duke had the thirst to play, so much that he alarmed his Mother who was worried about the stereotyping that came along with a guitar player. In 1958, Rebel Without a Cause, was the latest rage. Black leather coats, hoodlums, and guitar players meant trouble.
Duke's father would have supported him, but he wouldn't dare argue with the Mrs. on this subject. Duke was alone on this matter, so he crafted a plan. Whenever his brother would go out on a date, he would sneak up to his room and play his guitar. And he soon became very good -- his brother and the rest of the family had no idea. One Saturday afternoon Duke and his brother were sitting on his bed talking, and Duke asked his brother if he could play his guitar. His brother replied sharply, "NO! You can't play the guitar." Duke said, "Yeah I can, let me show you." Duke proceeded to play all the songs that he knew, and proved to his brother that not only could he play, he was far superior to his brother. Within two days, his brother sold the guitar and shortly after that he became a painter.

After Duke graduated from high school he moved up to Maine and lived on a farm with some hippies. He says, "I was doing the 'commune' sort of thing." Friends came up to visit, and Duke told them, "Get me out of here!" They rescued Duke, and brought him back to Rhode Island where he started the first version of Roomful of Blues in 1967. This early version didn't consist of any horns, with the basic core including Al Copley on piano, Larry Peduzzi on bass, and Duke on guitar. The band would interject several different drummers and harp players, trying to find the right mix for the band. The band was looking for a name, and they had tried a few different names, but nothing the group really liked. A friend of the band had written a poem, called A ROOMFUL OF BLUES, and they all said, that's it! Later the band would drop the A, and they would become, Roomful of Blues.
Duke had been collecting old records with a particular interest in jump blues. He discovered Roy Milton, Wynonie Harris, Buddy Johnson, Jimmy Rushing and Joe Tunner. It was these swing blues orchestras that motivated Duke into deciding that he just had to have horns in his band. Duke got all the local guys in town that could play, or were willing to learn swing. Greg Piccolo (tenor sax) and Rich Lataille (alto & tenor saxes) were recruited, together with drummer John Rossi. (One year later Doug James, baritone sax, would join the band.) Duke dished out his records to the horn players and told them to get these other horn player's styles down. The word was out on the street, Roomful of Blues, was regarded as the jumpin', swingin' R&B band that had crowds tearing up dance floors and filling clubs to capacity, all across the state. The club owners loved it.
One club in particular became very instrumental in the development of the Roomful of Blues signature sound -- a little club in Westerly, Rhoad Island, a very small beach town right on the Connecticut border called, Knickerbocker Cafe. This club would become the home for Roomful for some 15 years on Sunday nights. Knickerbocker Cafe was a big dance hall that was left intact and unchanged from the heydays of the forties. The walls still displayed the original hand painted murals. Off to the side, in the Cascade Ro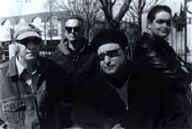 om, there was a little bar that had a quaint waterfall and hanging chandeliers. The Satellite Room featured sputnik lights from the ceiling and old wood floors that led up to the bandstand. Just being in the room, one could feel the presence of the forties, an era long forgotten, just a distant echo in the wind.
Inspired by the atmosphere of the room, Roomful began utilizing the natural warm surroundings and incorporating more of an authentic sound. The band had an acoustic feel to it. On the slower songs they would use brushes on the drums, and all the members of the horn section would gather around one of those big old shure microphones. The guys would stand around it in a half circle, stepping forward individually to solo. Roomful began to play the music just the way it used to be played back in the forties. The players were loving it, and the dancers couldn't get enough. There was a real scene going on back then; people would come out and jitterbug and swing dance, flipping the girls over their heads and under their legs. It was hard not to be influenced by all that was going on back then, at the Knickerbocker Cafe.
After being in the band for twelve years and recording two albums, the first, Roomful Of Blues on Island Records in 1977, (later re-released on the Varrick Record label), and the second album, Let's Have a Party, on Antilles Records in 1979, Duke decided to move on. The band was going through some growing pains and Duke was coming on to his own as a songwriter. He wanted to put more accent on his guitar playing, hooking up with Robert Gordon for a few months and later starting a blues trio who toured around the country. Later, Duke hooked up with The Legendary Blues Band. He went on to enjoy a successful solo career and is currently on the Point Blank Virgin Record label.
Doug James recalls the early days, "I don't want to sound too showbizie, but Duke was just the best." After Duke left Roomful, any other band might have folded. Duke was the founding father and was considered a musical genius. It was to Duke's credit that the band would continue on its own. He had left the band in good hands, knowing that they would fair well in the future.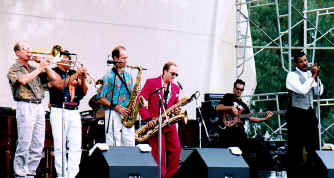 Another version of the band would emerge and prove to meet the task that was before them. Ronnie Earl replaced Duke on guitar. They hired Lou Ann Barton for vocals, and big band veteran, Porky Cohen on trombone. A trumpeter who was shortly replaced by Bob Enos and Jimmy Wimpfheimer played on bass. Lou Ann Barton left within a year, and was the only female vocalist the band would know in twenty five years. Doug James recalls working with Lou Ann, " Lou Ann was great! She was a real Texan, real funny. But I am sure she will tell you, it's hard to go on the road with eight guys and one girl. But Lou Ann, she held up her end when it came to being on the road."
The lineup remained and proved to be immensely popular, as the band's reputation continued to soar. With their next release, Greg Piccolo took over on vocals and Roomful recorded the album, Hot Little Mama, on Blue Flame Records in 1981 (later re-released on Varrick Records). On the success of Hot Little Mama, Roomful undertook its longest national tour and received rave reviews whereever they played. In the years to follow the band released two album projects on Muse Records, Eddie "Cleanhead" Vinson & Roomful of Blues in 1982, and Blues Train Big Joe Turner & Roomful of Blues, in 1983. Preston Hubbard replaced Wimpfheimer on bass on this project. Both projects were nominated for Grammies in the Best Traditional Blues category in 1983 and 1984. And if you can find them, they are a must for your collection.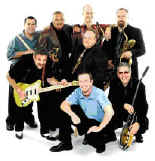 Dressed To Get Messed up, Verrick Records 1984, proved to be a milestone album in the band's career. They were able to hold their own while blues was experiencing a new surge in popularity. Bands such as the Fabulous Thunderbirds, Stevie Ray Vaughan, Robert Cray and Los Lobos were setting the stage for how contemporary blues acts should sound. Roomful never looked back and countuined to evolve as a true blues band. As Doug James put it, " We all love what we do 100%. We are constantly adding and changing what we're doing. We can play at any moment, down and dirty Chicago blues, Kansas style jump-swing and some soulful R&B. You always have to keep the music interesting, or you will never progress."
In 1986 Black Top Record's New Orleans singer and songwriter, Earl King, along with Roomful of Blues recorded, Glazed. This album was nominated for a Grammy in 1988 in Best Contemporary Blues category. In 1987 the band decided to do a live album, Live at Lupo's Heartbreak Hotel, on Varrick Records. Again the band was changing a few of the members -- Pianist, Ron Levy (former B.B. King band member), Rory MacLeod played on bass, and they added vocalist, Curtis Salgado. Curtis remained with the band for a short span, and left an impression as only Curtis could. Doug James recalls briefly, "I can't say enough about Curtis; he is fantastic, and things were always live when he was around."
Some critics regarded Roomful as an archaic form of Rock 'n' Roll. Bob Bell, Roomful's manager said, " Roomful of Blues has always been twenty years ahead of the times, or forty years behind the times." Roomful of Blues was capable of breaking exciting new ground while remaining true to the sprit of traditional blues music. They had genuine respect within the blues circles they traveled. Roomful of Blue's horn section was developing as a desired component for other recording projects within the industry, resulting in contract work for many other music projects. Roomful was a mainstay. They might not have enjoyed a super stardom status, as we equate that to success, but the rooms they played across the world were mostly filled with musicians wanting to witness first hand, all the raves that surrounded this group. That in itself, is a sure fire ingredient to the path of stardom.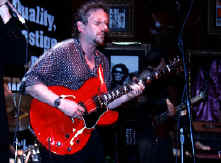 In 1987 Roomful was playing in New York City, at a club called the Lone Star Cafe. The band was setting up, getting ready for the night's performance, when in walks Eric Clapton. Clapton was in town shooting a commercial and had been in the studio working all day. Clapton walked up to the stage and said, "Hey, Stevie and Jimmie Vaughan, and a lot of other guys told me about your band. I would like to come down and play, after I go back to the hotel and shower." Clapton came back and the band motioned the guitar player to the stage. Clapton replied with a real straight face, "What do you want to play?" And continued playing all night long without missing a beat.
Early on in Doug James' career he had met Stevie Ray Vaughan in New Orleans. This meeting led to a friendship, finding themselves playing together in different situations. James recalls that first meeting. "I met Stevie when he was 17 and I was 18 years old, back in New Orleans. Jimmie Vaughan had introduced me to Stevie. So I said to Stevie, 'yeah how you doing kid?' You see, I had been on the road for two years and thought I was pretty special, then I heard him play, and it floored me. This guy is good! For years, I told people, just wait for this name to come up, it's going to happen." Stevie would pop in on Roomful whenever he was in town. Stevie did a lot for Roomful, and when they got together, they would always have a great time playing. Ironically, James mentioned, "We were on quite a few bootleg live recordings that people just recorded and released (according to the Stevie Ray Vaughan books) with Stevie and Roomful, and we never received any royalties from them."
1991 found Roomful of Blues backing pop diva Pat Benatar on her blues album, "True Love". This album made the Billboard top 40, and the band went on to tour nationally with Benatar, appearing on the Arsenio Hall Show and The Tonight Show twice.
In 1993 Roomful of Blues' horn section, (Greg Piccolo, Doug James, Rich Lataille and Bob Enos) and drummer, John Rossi, joined Colin James on his album project Colin James and THE LITTLE BIG BAND. The record went platinum on the Canadian market. (Doug James and Bob Enos both accompanied Colin on his new release, in 1995.) Roomful toured and opened for Colin, most of that summer. When Colin's band would come out, the Roomful horns would join Colin's band. Doug James recalls, " Colin is Ace's with me, he's done a lot for Roomful, always giving the band credit when we play." Bob Bell, Roomful's manger said, "It was a good summer. We would play some of our older stuff, and then mix in some of our newer tracks off the new CD. In fact, Colin was really excited about the song Chris Vachon wrote, 'Turn It On, Turn It Up', so much that he wanted to record it on his next project."
Oddly enough some eight years would pass before Roomful would record a solo project again. The last being in 1987, Live At Lupo's Heartbreak Hotel. Pat Benatar's husband, Neil Geraldo had wanted to do some big and wondeful things with Roomful, but for various reasons Neil's plans never materialized and the band had waited long enough, deciding to forge forward on their one. 1994 brought us DANCE ALL NIGHT, on Bullseye Blues records, that featured harmonica player and lead vocalist, Sugar Ray Norcia. In 1995 also on Bullseye, came TURN IT ON, TURN IT UP! The latest project representing only nine players -- Roomful's past vocalist, Greg Piccolo left to pursue other musical interests.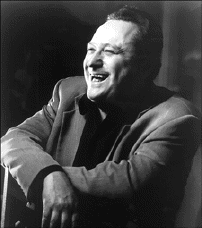 Sugar Ray brings the final piece to this large ensemble. Sugar can get down and dirty on the harp and blow some "Chicago style blues". Sugar's song style is reminiscence of Jimmy Rushing, Joe Williams and Joe Turner, a song style known as a "Blues Shouter & Swinger". Sugar comments that he has been referred to in the past as the "Tony Bennett of the blues".
Is there a trend in harmonica players lately? It appears the focus is shifting toward the voice, and downplaying the harmonica. Sugar expresses his view, "Well, anybody that does that, has got it made. There are a lot of harp players around and there's not too many harp players that can really sing well. To be able to have the choice, is a blessing. I don't think it's downplaying one or the other, it's just whatever the situation calls for. I just did an album with nothing but harmonica and piano, just two instruments, and that's just drenched with harp. Now with Roomful, I am more in my field as a singer."
Roomful of Blues has developed and emerged as the predominant band of choice for their unique era of music -- music that spans and stands the test of times -- music that deserves no titles placed upon it. Music in a room full of blues will do quite nicely, thank you.