The Seahawks and 49ers learned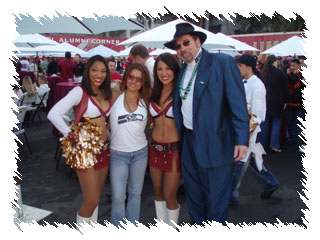 a lesson today
By Shannon Love
November 20th 2005
It was a beautiful day in San Francisco, and the Seahawks were coming to town to play the once proud 49ers in a must win. They left town with the win, and an unexpected new respect for an organization, that more then likely will come to play in the next several years.
As I arrived dressed in full Seahawk blue, I entered the alumni gathering with past hall-of-fame players, team officials and the 49ers gold rush cheerleaders. They greeted me and other Seahawks fans with respect; you could tell they were hurt, not so much because Seahawk fans were in their hollowed ground, but because they know where the came from Ė they are as proud as fans that Iíve seen.
During the first half, the 49ers fans were still and unmoved, waiting for the game to be over it appeared. They dressed, brought their flags, some with face paint, and some with wigs. As I spoke with them they reminded me of their championship rings they had collected, then turned and lowered their heads. I almost felt bad, the fight had left them at 2 and 8.
As I was tak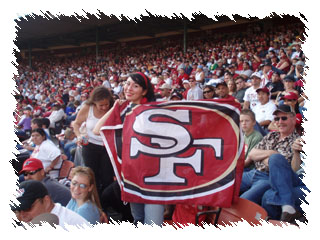 ing pictures of Seahawk fans, some would frown, some would smile, I could tell they were wondering what this was all about, why was I so excited. Itís about being a fan I told them, stand up and be proud as I was pounding my chest, be proud, show me what you got. They liked that and proudly declared their pride for all to see.
What I have learned over the years is the fans are part of this game and always will be. You can change a game and inspire your team to new heights, or you can sit on you hands and do nothing and watch the ship sink in a sea of lackluster enthusiasm that will bring all near you down, including your team. Perhaps in the past with their show so spectacular, the fans never got involved to the degree as Seahawks fans have. We had to and learned to rise above.
There is nothing like home! Although away games are a lot of fun -- I enjoy meeting fans from around the country and experiencing the home crowds antics, or there lack of.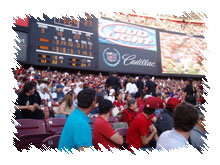 There was a Seahawk fan thrown out of the game near where I was, he went peaceful like, no ideal what that was about. The 49ers fans are very proud fans. And they should be treated as such; all fans deserve the home team respect from visiting fans. I mean I would never get up and lead cheers in an away stadium or go toe to toe with a 49er fan, itís not respectful of their house.
However, I will cheer loud and jump up and cheer good plays, I will high-five those around me. But I will also applaud good play by the home team. I am an NFL fan. I have every right to be in that stadium, but I also need to conduct myself accordingly, and as I said, there are a different set of rules for when youíre home or away. As I tell the fans back home, be respectful of visiting fans, and they will respect you Ė the game needs us both.
I felt honored to be in their stadium, and I was glad to be there for Steve Youngís, Hall of Fame ring presentation.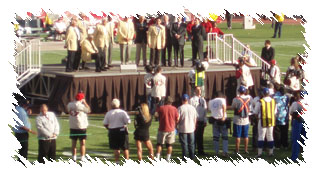 At half time, Steve Young gave a tearful emotional speech to the crowd while accepting his Hall of Fame ring at the 50 yard line, his emotions inspired players and fans alike for the 2nd half. Combine that with the 49ers first touchdown in a long, long time the stadium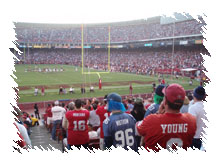 felt energized. The local newspapers stated the stadium has not been this loud in years. (I never heard the noise, but hey, Iím from Seattle where it does get loud) I will say the fans were more involved and the 49ers did shut out the Seahawks in the 4th quarter, and that kept the fans in the game as well. The Seahawks were flat on this day, and the 49ers played inspired. Lessons were learned today for both teams and the following weeks are sure to be different for both teams, the 49ers are coming to Seattle in several weeks, and we shall see what we both have learned.